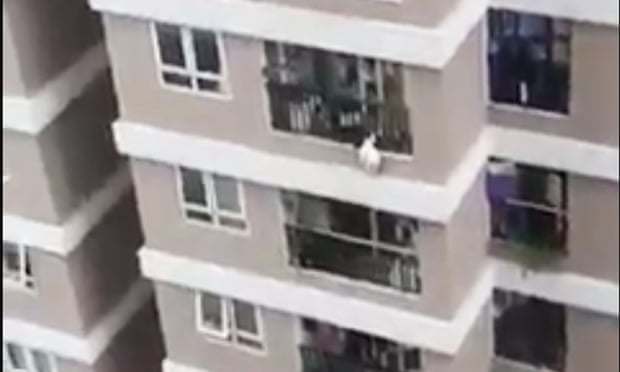 In Hanoi, a delivery driver hailed as a "superhero" has rescued a two-year-old girl who fell from a balcony on the 12th floor.
While waiting to make a delivery at 5pm on Sunday, 31-year-old Nguyen Ngoc Manh heard a child crying and a woman screaming, prompting him to look out of the window of his car, as he later told Anninhthudo news.
Speaking to media in the Vietnamese capital, he initially assumed the cries were from a tantrum, but soon realized it was something else when he saw that the child was almost 50 meters above the ground.
Spotting the girl climbing out of the balcony, he recounted "I saw a girl climbing out of the balcony."
"I mounted a two-metre-high tile roof to seek a proper position to get the girl," he stated, as reported by the Vietnam Times, still shaking from the ordeal.
As the child began to fall, he was standing on a metallic roof that was used to store generators, and he told VN Express International that he slipped. Nonetheless, he threw himself forward and managed to catch the child, hitting the roof so hard that he left a dent.
"I tried to reach out my hand and took the maximum effort to catch the girl," he shared, expressing the hope that he could at least prevent her from falling straight to the ground.
A video of the event, captured from a nearby apartment building, shows the child climbing over the balcony railing and onto a narrow ledge. Neighbors in an adjacent building can be heard shouting out to her. After holding on for a brief period, the child loses her grip and falls.
"Luckily, the baby fell into my lap," Nguyen said. "I hurriedly embraced her then saw blood leaking from her mouth, I was very frightened."
Following the incident, the child was taken to the National Children's Hospital, where doctors informed the media that she had dislocated her hip but sustained no other injuries. She is presently under observation and in a cast, according to Le Ngoc Duy, a physician at the hospital.